UK Premiere! Eurocrime! The Italian Cop and Gangster Films that Ruled the '70s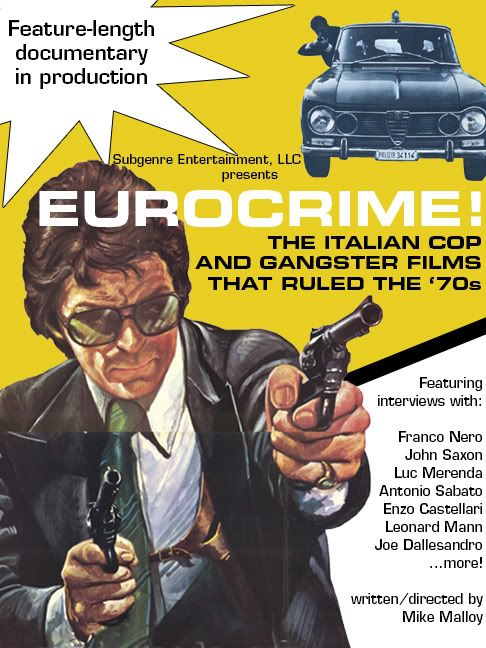 FRIGHTFEST 13: EMPIRE CINEMA, LEICESTER SQUARE, LONDON.
SATURDAY 25TH AUGUST – UK PREMIERE – EUROCRIME! THE ITALIAN COP AND GANGSTER FILMS THAT RULED THE '70S

Directed by Mike Malloy. Starring Franco Nero, Enzo G. Castellari, Henry Silva, Richard Harrison and John Saxon. USA 2012, 127 mins.
ROME ARMED TO THE TEETH, MILAN CALIBRE 9, CRY OF A PROSTITUTE, HOW TO KILL A JUDGE… just four of the hundreds of 'poliziotteschi' movies the Italian Film Industry churned out during the turbulent 1970s once the Spaghetti Western and Giallo trends subsided. First they aped the American crime hits of the day DIRTY HARRY and THE GODFATHER. But soon they addressed typically Italian issues like the Mafia, Camorra, Red Brigade and even 'scippo' – Vespa bag-snatching. And rushed production methods meant 'poliziotteschi' superstars Franco Nero, Richard Harrison, Luc Merenda and Maurizio Merli performing their own stunts, directors stealing shots, no live sound recording and a rapid bleed-over between real crime torn from newspaper headlines and violent movie action. Here those once involved in the genre paint a brilliant picture of all that madness and mayhem in this lucidly explained visually dynamic documentary packed with fabulous clips and poster artwork.
Full festival passes are on sale now and single performance tickets go on sale 28th July – Check the Frightfest website for further details